Katakana
---
Katakana Symbols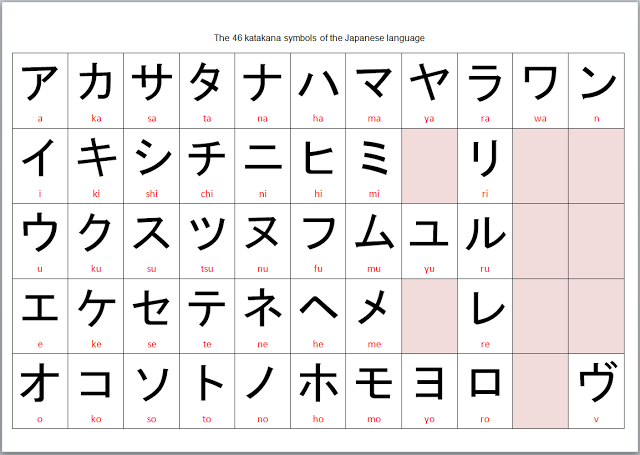 ---
Katakana: vor allem für Wörter aus fremden Sprachen, z.B.
kurisumasu (Christmas) ku ri su ma su






Meri Kurisumasu (Merry Christmas) me ri ku ri su ma su








MakuDonarudo (MacDonald's) ma ku do na ru do
マ ク ド ナ ル ド
hanbāgā (hamburger) ha n ba ga
ハ ン バ ー ガ ー
basukon (birth control) ba su ko n
バ ス コ ン
Sērusuman (salesman) Sē Ru Su Ma N
セ ー ル ス マ ン
besuboru (baseball - a bit of a mix-up here with volleyball maybe) Ba Re Bo Ru
バ レ ー ボ ー ル
Sakkā (soccer) Sa Ka-
サ ッ カ ー
rabu (love) ra bu
ラ ブ
Pāma (permanent waves - a perm hairdo) - Ladies hairdresser
パ ー マ
(2007) Today the new buzzword in some Japanese businesses is "daiba-shitii," or diversity. Da i ba - shi te i
ダ イ バ ー シ テ イ
suto (a strike, from sutoraiki) su to
ス ト
Dokutā sutoppu (doctor's stop, to quit a health-threatening habit) Do ku tā - su to pu
ド ク タ ー ス ト ッ プ
sekuhara (to sexually harass is to commit sekuhara) se ku ha ra
セ ク ハ ラ
paso-kon (a personal computer) pa so ko n
パ ソ コ ン
hande (a golfing handicap) ha n de
ハ ン デ
. . . and so on
---
Creating a new verb in Japanese
A new verb can be created in Japanese by simply adding the verb ending ru to the end of any borrowed phrase, as in, say, "makuru" (マクる), to eat a McDonald's hamburger - maku, short for makudonarudo (マクドナルド), and ru. (The equivalent in French, by the way, is "bouffer un macdo".)
---
Japanische Fremdwörter aus dem deutschen
arubaito (das Jobben für Studenten, aus dem Wort Arbeit) a ru ba i to
ア ル バ イ ト
noirooze (Neurose) no i rō ze
ノ イ ロ ー ゼ
arerugii (Allergie)
---
. . . and from Portuguese
"Karuta" - the Japanese word for playing cards - originating from the Portuguese word "Carta". It was the Portuguese who introduced card playing to Japan in the middle of the 16th century.
---