Custom Search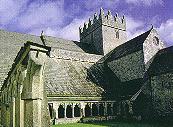 Holy Cross Abbey, near Thurles, Co. Tipperary, Ireland
Some lines written by a pilgrim to Holy Cross Abbey c. 1450
"Teach naomh na n-easlan d'fheithimh,
Saor gach easlan na fhochair;
Mairg fear don tigh nach tuitigh,
Teach earthimh gach fhir othair.
.
Eaglais cheart croiche an Choimdheadh,
Na bhfeart gcloiche is na gcomhradh,
Sloigh aingeal ag a hadhradh,
Daingean anamh, roimh roghlan."
.
(Thou art the Holy House for care of the sick,
Saved is every sick man who enters thee;
Woe to all who frequent not that house,
The house which cares for all sufferers.
.
The true Church of the Lord's cross,
with its stone monuments and coffins,
And hosts of angels in recurrence,
Is a fort, a Sanctuary for Souls.)
.
Inscription on a wall outside the Abbey:
OGHTERI AMHAN
.
---
Like to see a Japanese sutra in Irish?
Go to main Irish page